Birmingham Conference and Events Centre
« Back to Events
Name:

Birmingham Conference and Events Centre

Address:


Hill Street

,

Birminham

,

B5 4EW
Upcoming Events At This Venue
29 October, 2018
29th-30th October 2018
Birmingham Conference and Events Centre
The Institute of Air Quality Management (IAQM) presents Routes to Clean Air 2018, a two-day annual conference where air quality, public health and transport professionals, in both the private and public sectors, share their experiences of improving traffic emissions.
Speakers will discuss a range of topical issues offering their insight into the steps required to improve air quality, including best practice examples and practical challenges faced during implementation.
Delegates will gain valuable CPD, have the opportunity to network with fellow air quality professionals and interact with leading organisations in the air quality sector.
Who should attend?
Air quality consultants
Local authority officers
Transport professionals
Expert practitioners
Local and regional government officials
Academics and researchers
Environmental health officers
Air quality graduates and PhD students
Air quality manufacturers
NGO's
Professional bodies
Conference dinner
The first day of the conference closes with a 3-course conference dinner, included in the price of your ticket, where the winner of the Ian McCrae award will be announced. This year, the award will be presented to an Early Career Professional who has demonstrated their commitment to the sector.
The full programme will follow soon.
This is an essential conference for air quality professionals. Save the date to make sure you don't miss out.
Ticket prices
Super Early-bird IAQM/IES member  – £225
Super Early-bird non-member  – £325
Local Authority  – £225
Student or Graduate*  – £185
*Graduate rates are available to those who graduated after 1st January 2017, evidence of your graduation date will be requested to confirm your booking.

Ian McCrae Award
This year, the Ian McCrae Award will be presented to an IAQM Associate or Member in the early stages of their career (approximately the first ten years). The winner will be given a complimentary ticket to attend Routes to Clean Air conference and conference dinner, where they will be presented with a trophy.
Are you an IAQM member in the early stages of your career? Then visit our website for information on how to enter and submit your entry to be in with a chance of winning.
Entries close at 5pm on the 4th October.
Meet our conference sponsor
Our speakers
Dr Gary Fuller, King's College London

Wood Burning in the UK

Gary is a Senior Lecturer in Air Pollution Measurement at King's College London. Having led the development of the London Air Quality Network, now the largest urban network in Europe, Gary has pursued network data analysis techniques to characterise trends and changes in urban air pollution. Much of this research is focused on the source apportionment of PM10 concentrations to quantify the impacts of PM not well-represented in emissions inventories, including construction activity, waste management and more recently wood burning.

Through close working with toxicologists, clinicians and epidemiologists, Dr Fuller promotes the best use of air pollution measurements in health studies, working towards a better characterisation of pollutant exposure.

Public engagement is an important part of the work at King's. As well as leading the London Air Quality Network websites and apps, Dr Fuller also writes the fortnightly Pollution Watch in the Guardian newspaper and hopes to be publishing a book on air pollution late 2018. He is also a member of Defra's Air Quality Expert Group.
Nick Molden, Emissions Analytics

The First Real Driving Emissions Results, Consequences for Euro 6 Diesels and How to Make a Clear Air Zone Work

Nick founded Emissions Analytics in 2011 in order to understand real-world fuel economy and emissions from vehicles. The concept was to find a way to characterise vehicles in a relatively short test, and be able to conduct a large number of comparable tests.

The solution was to use Portable Emissions Measurement Systems to source real on-road raw data efficiently across many vehicles. This database is now a platform for analysing and modelling this data, from which the EQUA Index was created, which is used and published in the UK, across Europe and the USA. In addition, Emissions Analytics conducts extensive custom testing programmes of heavy and light duty commercial and off-road vehicles.

Nick is a specialist in data analytics, particularly in the automotive market, through his prior work at Oxford Indices Ltd, a data specialist, United Business plc and Haymarket Media Group.

He is a graduate of the University of Oxford, with an MA in Philosophy, Politics and Economics.
Dr Mark Peckham, Cambustion

Transient Engine Emissions and their Impact on (very) Local Air Quality

Mark attended Edinburgh and Cambridge universities for Bachelors and PhD degrees in engineering. Following a brief spell at Ricardo, he joined Cambustion where he has been a Director of the Products Division since 1998.

He aids technical support and develops new techniques for using their fast response emissions analyser products which currently involves on-board fast RDE measurements for the purpose of mapping urban air pollution hotspots from vehicle emissions. He also publishes technical papers involving the application of this equipment to combustion and emissions control systems.
Dr Jenny Stocker, CERC

Best Practice Air Quality Modelling Using ADMS

Jenny received her PhD from the University of Manchester in Applied Mathematics and has worked at Cambridge Environmental Research Consultants (CERC) since 2000, where she is now a Principal Consultant. Jenny manages CERC's contribution to a range of UK and international research projects in which CERC's ADMS model is applied; these projects often lead to model developments such as the advanced street canyon model in ADMS-Urban and the system that couples ADMS to regional scale chemical transport models. Jenny has extensive practical experience of running the ADMS models in addition to expertise in emissions inventory and has leading the development of CERC's urban heat island model.

Jenny has presented at many conferences and has published scientific papers in leading journals.
Professor Nick Newitt, Lancaster University

Using Green Infrastructure to Improve Urban Air Quality (GI4AQ) (with Kirsti Ashworth, Lancaster University and Prof Rob MacKenzie, University of Birmingham)

Nick is a Distinguished Professor of Atmospheric Chemistry at Lancaster University. His work on interactions between the biosphere and the atmosphere have spanned scales from the leaf to the globe and have involved both measurements and modelling. He has a particular interest in providing scientific understanding that can be used to underpin rational public policies.
Mark Wilmot, AERIUS

AERIUS: The Calculation Instrument of the Dutch Integrated Approach to Nitrogen and the National Air Quality Cooperation Programme

Mark is an Earth Scientist and fascinated by all the different views one can have on our natural environment. By evaluating all the different perspectives in relation to future goals, he applies change management methods to assist in the realisation of the transition in organisations as well as related processes and products. He has developed the ground work for the successful integrated approach to Nitrogen and to the National Air Quality Cooperation Programme in the Netherlands. Working with several Ministries and provinces, he combines policy making, scientific research and IT development to create web applications such as AERIUS. AERIUS success in reducing complexity of environmental regulating policies while improving quality in permitting and policy evaluation was also recognised by the European Commission. AERIUS received a Certificate of Excellence. Today, Mark works together with the National Institute for Public Health and the Environment (RIVM) on further development of AERIUS.
Susan Zappala, Natural England

Nitrogen Deposition: Exploring Strategic Approaches from Policy to Modelling

Susan is a Senior Specialist for Air Pollution and Ecotoxicology at Natural England, the government's adviser for the natural environment. Natural England helps protect England's nature and landscapes for people to enjoy and the ecosystem services that clean environments, resilient habitats and wildlife provide. As a Chartered Environmentalist in the Institute for Environmental Management and Assessment, Susan has experience advising on risks from atmospheric pollutants, toxic substances, contaminated land and groundwater protection. Susan works with UK devolved Administrations, Countryside Conservation Agencies, local authorities and environmental professionals to share best available evidence on air pollution assessment involving protected habitat and wildlife.
Jack Pease, Environmental Management Publishing

Firewood Standards: A Contradiction in Terms?

Jack edits Air Quality Bulletin, a monthly newsletter covering news in a challenging and informative way.
Trained graduated as a civil engineer working for British Rail for a few years laying track and building bridges and can admit to being responsible for the truly hideous Selhurst Train Depot in South London. An abrupt career switch to journalism saw him covering sectors such as transport, planning, Oil and Gas, engineering, defence, trucking and most latterly air quality and noise. In an era of free news – much of which is scraped from google searches – Jack passionately believes there remains a role for good old-fashioned print journalism where independent journalists can ask awkward questions where others may fear to tread.
After years of austerity, deregulation and foot dragging, money is now being thrown at air quality and vehicles really do look like they have cleaned up their act. All this panic-spending on solving pollution – what could possibly go wrong?
Rebecca Rose, Ricardo

Real World Measurements of Ammonia Emissions from Vehicles

Rebecca works as a consultant in the Ricardo Energy and Environment air quality team where she has gained a broad knowledge of emission inventories, air quality monitoring and modelling, and air quality policy. She has worked on a range of projects to assess air quality at a regional, national and local scale. Recent interests have focussed on understanding real-world vehicle emissions using vehicle emissions remote sensing. Rebecca is interested in how information from these measurements can be incorporated into air quality modelling and assessment to inform local transport policy.
Esfandiar Burman, University College London

Indoor Air Quality in Low Carbon Buildings: A Cross-Sectoral Analysis

Esfandiar is a lecturer in building performance at UCL Institute for Environmental Design and Engineering. He has been involved in building performance evaluation of several buildings in residential and non-domestic sectors with special focus on the balance between energy efficiency and indoor air quality. Esfand is a registered Low Carbon Consultant and Low Carbon Energy Assessor with the Chartered Institution of Building Services Engineers (CIBSE), and a Certified Energy Manager (CEM) with the Association of Energy Engineers (AEE). His professional and academic interests include sustainable building services design, building performance evaluations, air quality in low energy buildings, and CFD analysis.
Chris Birch, Hilson Moran

Well Building Standard and Workplace Air quality

Chris is the Director of Sustainability at Hilson Moran, a multidisciplinary engineering consultancy specialising in the built environment. He has over 25 years' experience as a sustainability and environmental consultant, 16 of which have been spent with Hilson Moran. During this time, Chris has worked with clients such as Google, Great Portland Estates, Hammerson, Wells Fargo, Bank of New York Mellon, Bloomberg and Lendlease in the UK and internationally. Chris has helped these clients improve the performance of their property portfolio in terms of sustainability and wellbeing of their employees and tenants. Chris and his team are working on seven WELL projects at present and have recently achieved WELL Gold certified for their own Manchester studio. This was the third WELL certified office in the UK and the first outside of London. Chris' talk will include an overview of the WELL standard and focus on the indoor air quality aspect and results of our continuous air quality monitoring programme.
Dr Jo Barnes, University of West of England

Qualitative Assessment of Links Between Exposure to Noise and Air Pollution and Socioeconomic Status

Jo has 14 years' experience working in air quality management, policy and practice at a local, national, European and international level. Since 2008, she has been employed in the Air Quality Management Resource Centre at the University of the West of England, Bristol, where she has also completed her PhD researching the effectiveness of Local Air Quality Management. In this role, she has worked with, and on behalf of, numerous local authorities, Defra and the Devolved Administrations of Scotland, Wales, Northern Ireland and Greater London, other Member States and the European Commission to implement and develop air quality management policies and practices. Jo's main research interests are in urban air pollution, particularly from road traffic, helping to understand and raise awareness of the health impacts and environmental justice issues relating to local air pollution, in order to shape and influence policies to improve air quality in towns and cities globally.
Douglas Booker, National Air Quality Testing Services (NAQTS)

Vehicle Interior Air Quality

Douglas, a University College London graduate, launched NAQTS with the intention of making high-quality air pollution monitoring technology available to everyone, in order to: raise general public awareness of the health issues associated with indoor air pollution, assist the public in improving their indoor air quality, and provide scientific data for policy advancement. Douglas specialises in the development of air quality monitors, integrating the latest developments in low-cost sensor technologies with other regulatory grade measurement techniques.

Driven by the pursuit of social justice, Douglas is also currently enrolled in a part-time PhD at Lancaster University investigating indoor-outdoor air pollution and environmental justice: air pollution does not stop at the front door, and it is often the most vulnerable populations that are disproportionately exposed to higher concentrations.
Wanting to Exhibit?
Routes to Clean Air attracts consultants, transport professionals, local authorities and regulators, providing an excellent opportunity for organisations to interact with their target audience of experts and buyers. This conference is a platform for expert practitioners to share knowledge, therefore there are a limited number of spaces for exhibitors.
Benefits of exhibiting:
Listing on the event page on both the IAQM and Institution of Environmental Sciences (IES) websites.
Promotion on the IAQM and IES Websites, Twitter and LinkedIn accounts
Inclusion in both digital and printed versions of the delegate pack
Attendance at the conference dinner
Download our Exhibitor Pack and book your space today.
For more information contact Rhianna rhianna@the-ies.org
Exhibiting this year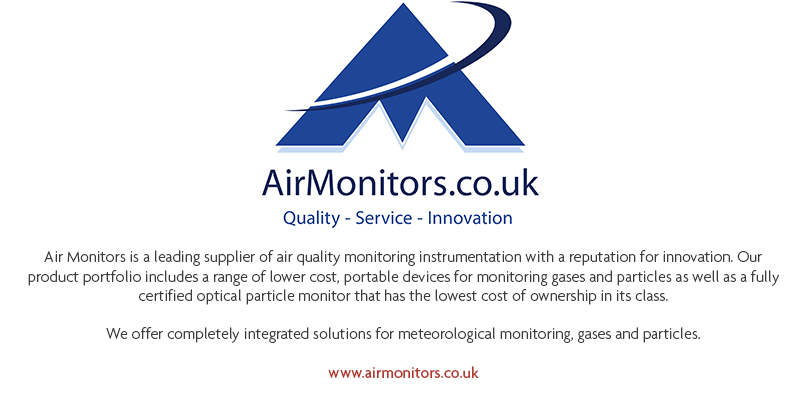 Accommodation
Have you booked your conference accommodation?
We have negotiated rates at Holiday Inn Birmingham City Centre. Standard Double and Twin rooms can be booked up until 1st October 2018 for a fixed rate fee of £100 bed and breakfast. Quote discount code C78 upon booking.
Book today by Email, Phone 0121 634 6200 07:30am-17:00pm or 0800 405060 out of office hours or Online.
All bookings using this code can be cancelled free of charge up to 7 days prior to arrival date.
Accessibility
The IES and IAQM aim to provide events, conferences and workshops which are accessible to all. If you anticipate needing any type of assistance to fully participate in this event, please email Rhianna Jarvis at rhianna@the-ies.org or call +44 (0)20 7601 1920 to discuss this further.